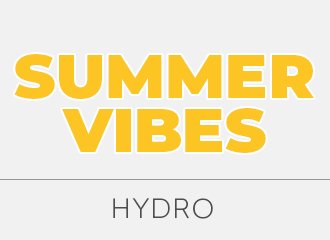 Summer Vibes - 20% on the entire HYDRO line

Summer is the time when the skin needs special care. Sun-kissed skin looks beautiful but the result of excessive exposure to the sun is dryness, emergence of fine wrinkles or the formation of discoloration. What should one do to prevent such a condition and enjoy beautiful, healthy looking skin?
The basis of care during the summer is moisturizing. It is one of the conditions necessary for keeping the skin of the whole body in perfect condition and delaying the aging process.
In our products from the Hydro line, we have enclosed very carefully selected active ingredients, such as:
• Fish collagen
• Bull Kelp algae bioferment
• Xylitol and Lactitol
• Peach seed oil
• Plant polysaccharides
• Kappaphycus alvarezji red macroalgae
The combination of biologically active fish collagen with high-quality active ingredients has allowed us to obtain excellent moisturizing properties of our products. By including the Hydro line products in your daily care of the whole body, you can be sure that your skin will be silky, smooth, soft to the touch and pleasantly moisturized, even after frequent sunbathing or contact with salty sea water.
In order for you to enjoy beautiful, healthy-looking skin, we have prepared
Summer Vibes offer, where every two weeks, you can find a different line of Colway International products at a lower price.
To start with:
The entire Hydro line* -20%:

Hair shampoo with collagen -20%
Hair conditioner with collagen -20%
Nourishing hand cream -20%
Deeply hydrating body balm -20%
Intensive moisture face cream -20%
Collagen lip care -20%
Delicate foaming face wash -20%
Micellar water -20%
Exfoliating mask -20%
* the offer does not apply to the sets: EveryDayCare and EveryDayCarePlus
The offer is available:
From 23/23 to 24/23 QW
(06.06.23 – 19.06.23)
The offer is available from the status of: Registered customer
Additionally, when the Summer Vibes offer is available, i.e. from 23/23 - 34/23 QW (i.e. 06.0.6.23 – 28.08.23):
Sachets - intensive moisture face cream for only 6.90 PLN/ *
*the maximum quantity in one order is 3 sets of 10 pcs

And a set of products:
Summer set
Sumer shine - shimmering body balm x 1
Body scrub x 1

Offer available from the status of: Registered customer
Fulfill your dream of perfect skin and enjoy its natural beauty now and in the future.
Back to list