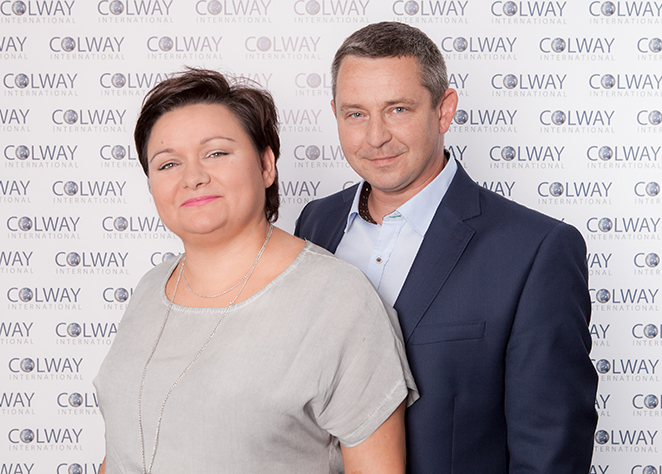 Anna and Leszek Dratwińscy

They travel the world, fulfilling their passions. They praise the fact that they have time for themselves, for their family and their 18-year-old son Mikołaj. Once, they tried working full-time, running their own business, but it was only in partner marketing that they found what they were looking for. Meet Anna and Leszek Dratwiński, now Vice-Presidents of Colway International, who in their 'previous life' were specialists in advertising and marketing, and zootechnics.
Colway International: Can you confirm the thesis that success comes easier together?
Anna and Leszek: Definitely, yes. When common goals are shared and strengths are shared equally in what you do, it's much easier. For us, the big advantage of such a business relationship is the fact that we can talk about challenges and know that our partner understands. It's also much easier for us to conduct recruitment interviews.
C.I.: Why?
A.L.: Well, in this business your car often becomes your office, and if two people are involved, the time spent travelling to potential customers and associates is well used. One of us drives, and the other can call and make appointments, write e-mails, read, or even participate in online training. It's also true that together we achieve our goals faster. And if it happens that we want to take a break from our own company, we just spend a few days a year separately.
C.I.: So does working together affect your personal life?
A.L.: In our family everyone is involved in Colway International. Everyone is responsible for something, and everyone tries their best. We've long ceased trying to separate our private and professional lives. That doesn't mean, however, that we're working 24 hours a day. But it's simple – if you love what you do, there's no need to separate work and time outside work.
C.I.: What made you consider Colway International an attractive business offer?
A.L.: The Partner program, with its many privileges. From the discount at Member rank to help get a good start, to the powerful e-commerce tools in the form of our own virtual office, and – virtually maintenance-free – our own online store at which we physically don't have to be present. Plus, we have the opportunity to gain five sources of income and take advantage of an educational program. Colway International provides paid promotions, a standardized car program and foreign conferences. Added to this are its almost 30 innovative products from the top biotechnology shelf, all made of components unused by any cosmetics company so far. We have a recipe for success. What more could you want?
C.I.: So what gives you the most satisfaction?
A.L.: The possibility of continuous development. It's also important that we can pursue our passions together. We have time for ourselves, time to fulfil our dreams, we can travel, and we really 'go' to work when we want to, not when our 'boss' tells us to. However, I think that the possibility of working with other people still gives us the most satisfaction. It's a great feeling when people from our team get involved and then get promoted to higher and higher ranks. When we can participate together in integration trips, plan together and act together, it's great. This company is primarily people, and we're lucky that we can work with the best of them.
C.I.: How does Colway International influence your life plans and values?
A.L.: Colway International gives us the opportunity to be the best versions of ourselves. To become who we want to be. We have the feeling that it will change our future to be the one we've dreamed about.
C.I.: What's your main goal with Colway International? Where do you want to get to with it?
A.L.: Our priority is the highest rank of course – International President, and all the privileges associated with it. Obviously, we're aware that we still have a lot of work ahead of us, but when we choose a goal, we always strive for it.
C.I.: In your opinion, is partner marketing for everyone?
A.L.: If you're positive, with a friendly attitude to others, like to play, travel and take seriously what you get involved in, then yes, this business is for you. No one here is asking about your age, education or origins. Everyone starts from the same position and everyone has an equal chance. When you start in the Partner Program, what you know isn't important. What's important is what you learn ... AND WHAT YOU DO!
C.I.: Well, we certainly wish you further success, and good luck in achieving your goals!